Painting and Design Work by Margot Cioccio
A Devotional by Margot Cioccio
On Monday I spent most of the day painting these beautiful birds. It was part of a on line artist challenge. The challenge supplied you with several photos of various separate birds from Costa Rica to work from. I added the bridge and decided I wanted to use two of the birds in my painting.
I suppose I am some what taken aback by the magnificent creatures that God created for us to enjoy. The colors of these Macaws and Parrots are spectacular. Its hard for me to understand how people can look at such things and not see the fingerprints of God and the vastness of his creativity.
I look around at all the things that God has created and I can help but think that he would have us as people who he made in his likeness to also be creative. I'm not talking about just arts and crafts but in every area we should be able to apply the creative process. To have a vision of something that could be and then to take steps to make it become something that others can experience as well.
My head is generally full of ideas. I keep a note book of ideas to refer back to during times when I don't have my head full of ideas. I keep lists of things I want to work on and I check it every now and then to see what things I may have forgotten that I wanted to do. I keep the list on a sticky on my computer and I underline things and move them to the bottom of the list when I get done with them.
Here's an example of my current list. Things like this painting never even made the list but are more of things that I make a point to do regularly like spend quiet time with the Lord, write this blog, create something. They are things that no longer need to go on the list because they have become more of a way of life. The To Do list is more things I would like to accomplish and some of them may take a while to accomplish. The things with checks by them on the list are things I have worked on but are not yet completed.
To Do
Finish A-Z e book √√
Write a New Worship article for Training Resources
Add Stuff to artfire
10+done
√√
Guitar Policies and Open Slots
Finish Guitar Blog Site √√
Hang Guitar Posters √
Garage Clean Up
Sew Patio Pillows
List Items to E-bay - create account √
Create a fiver video and gigs -
photo collage, christmas letters,
Home Prayer Concerts √
Devotional Posts based on Cinnamon Bear √
Apply To Pearl Blog
Do something about my desk area
Up Date Guitar Teaching Book
Eleanore's 30 Cinnamon Bear Ornaments
Finish the Key Painting
Guitar Poster and flyer
Get Posters to Students
Create Facebook Art Page
Create Facebook Devotional Page
Create a book of performable songs
I guess my point is that as I look at the account in Genesis of the creation I can see that God was very systematic. One day he creates day and night, the next land and sea... then on to the various types of creatures. I have grown to realize that creativity does not just happen. You have to set aside time for it. There are things I don't do much of because they are a lower priority. I start with a vision or an idea. Then I assess what steps I can take at this point given the resources that are available to me today. When I am stuck and can't do anything on one project, I let it rest until the inspiration or needed materials become available. I don't spend much time fretting or worrying about how I will get to the final completion but I am always actively looking for the next step. If I'm stuck for a time I pick something else from my list and work on that for a bit. In my mosaic projects if I don't have some great idea to work on I work on nipping glass to common shapes that I will then have on hand when I do have a project idea.
I hear people say that they don't have time to pray and I feel sorry for them because they have not discovered that fruitfulness comes from having spent time with the Lord. Its not that I spend time with the Lord so I will be fruitful. I spend time with the Lord because I have learned to love His presence. The fruitfulness is a by-product of hanging out with the creator. As I spend time with him I am filled with inspiration, hope and courage and it begins to over flow in my life. When we learn to practice his presence and invite him into our daily life things somehow work better. Its not that I don't face difficulties and set backs but in those time rather than shake my fist and blame God. I look for how that difficulty helps me to know him more. I trust that as I draw near to him that he will help me figure things out. I know that as I take the next step of faith that even though there seems to be no safety net his hand is always there protecting and guiding me.
Sometimes I need to set my list aside and seek the Lord about what he has on his list. The things he has planned for us are too many to count or to declare. While I have my list of things I am working on I make a point to remember to be led by the Holy Spirit. It may be the Lords plan for me to spend time supporting or encouraging someone else. Its important to me to stay available to Him. At the same time I have to know my boundaries. There are times when we are to step in and help other and there are times we need to pray and believe that others are capable to work things out on their own.
I hear people comment all the time about how busy I am and how much I get done. I do keep busy but I try to keep it a relaxed contented busy rather than a stressed and harried busy. I fully believe that the Lord will give me everything I need to accomplish the things that He wants me to do. Sometimes when I don't seem to have what I need for some goal or project I check my motivations. Did I take on this project because God wanted me or did I take it on for some other reason. Sometimes I need to make adjustments. Quite often the steps that God has for me to take to accomplish some task are far different than my own.
Today I think I will work on the Garage project - not my favorite but it needs to be done and I've put it off till the end of the summer. If I get it done quickly I will reward myself with some extra creative time.
Prayer:
Lord you know the multitude of thoughts and plans you have for each of us. Help each reader to realize the value of abiding in your presence and allowing you into every part of every day.
Lord there are some that still fear they don't measure up. They think why bother they will never be good enough to please you or to reach your standards of perfection. For those readers Lord, I pray that they would come to know the wonder of your acceptance and Love.
Help Support this BLOG
If you are getting this devotional in your e-mail I realized that the paypal donation button does not work. You have to click the blue title and get back to the actual post for it to function. You can also help by sharing this devotional with your facebook friends or pinning this to Pinterest or to Stumble Upon and I truly do appreciate your prayers as this is a faith journey for me.
I also try to make my artwork available to you in a variety of ways. I make a small royalty on these items that helps me to pay my bills and continue to be creative. I hope that you see them as resources that will encourage you and also those whom you might give them to as gifts. If you see a design that you like and want it on a t-shirt or some other item let me know and I will make it available and send you the link.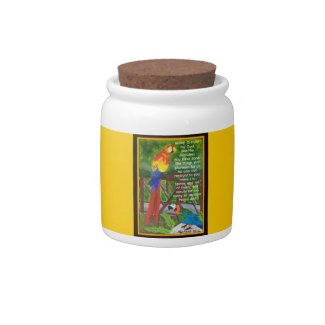 Macaw & Parrot Candy Jar
by
MargotsDesigns
Browse other
candy dish
designs on Zazzle.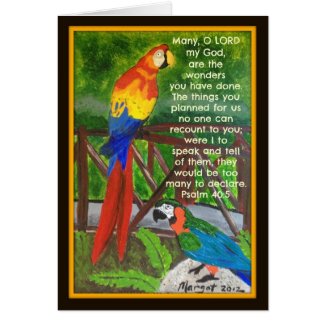 Colorful Birds with Psalm 40:5 Card
by
MargotsDesigns
See other
Psalm Cards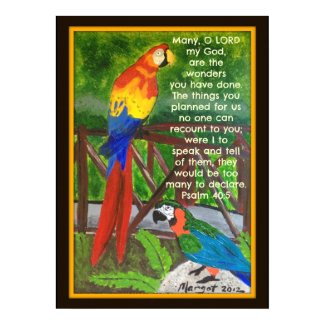 Colorful Birds 16 x 22 inch Semi Gloss Poster
by
MargotsDesigns
Get the best in
online poster printing
at zazzle.com