A Devotional by Margot Cioccio
I will not be shaken...
How do you set the Lord always before you? Some of the things I will do to keep the Lord always before is to place bible verses around where they can speak to me and to others. I've been working on trying to include some sort of scripture print featuring my photos, painting or mosaic work in these post. I hope you will be inspired by them as you read and even perhaps decide to give them as gifts or use them around your own home. I have at times gone so far as to write bible verses directly on mirrors or to put post it notes around the house to remind me of a verse that I am standing on.
I keep the Lord ever before me by setting time aside to spend with the Lord in his word and in prayer during which I make sure to listen and not just rattle off a long lists of needs and requests.
When I am feeling shaken and stressed I try to find a quiet moment where I can take some quiet time to re center myself in the Lord. I will speak out loud to myself his word. Faith come from hearing the word I take Romans 10:17 literally. "Consequently, faith comes from hearing the message, and the message is heard through the word of Christ." I will ask for his help and approach the Lord with thankfulness and praise. I try to be honest with the Lord - if I'm struggling I ask him to help me. If I have sinned in some way I try to be quick about repenting.
I suppose I keep always before me as I am around others. I am always looking to see the Jesus in people. Where does he shine through in there life. How can I encourage them to trust and follow him more closely.
Because he is at my right hand I will not be shaken. I think over the years I have seen the Lord deliver me and rescue me so many times that I have come to trust that he will take care of me. He tells mighty warriors like Joshua to Fear Not and he tells me the same thing. I do not have to generally work up my faith in a crisis because I am making a point to walk near to the Lord each and every day. I make a point to include him in my triumphs and my tragedies and everything in between. I'm not saying that my faith does not get stretched at times. In those times I remind myself of the many other times that God has helped me. I recall the promises from his word. I look for a verse that is speaking to me in this moment and I begin to stand and act upon it. I speak my faith and pray out loud as a way of reminding my own spirit and the enemy where I am choosing to stand.
I had at one time posted a big angel over my tv with a sign that said " I will put no vile thing before my eyes." I could probably stand to make a new one of those. Its easy to become desensitized and just sit on that couch like a potato soaking in all the garbage. I am far from perfect in this respect. My husband and kids think I'm kind of nuts but I cover my eyes and at times will stop my ears and even walk out of the room. I have such a vivid imagination and gruesome images are hard for me to get out of my head.
Prayer:
Lord I thank you that you want to spend time with us. You want to be part of our days and even those troubled nights. You are not waiting for us to get our act together you accept us today right where were are in this moment. Thank you for leading us in your word and by your Holy Spirit. Thank you for inspiration and courage and hope for this day.
You get more chances to win this by leaving comments
I hope some of these ideas will be helpful to you. If you have other ideas I would love it if you posted a comment or would stop by our face book page and "like" it. Here's the link to that page - just click the blue letters.
A Devotional Mosaic's Facebook Page
If you are also interested in following my art projects I have set up a face book page for it as well. Again I would love it if you would go "like that page.
Mosaic & Art Facebook Page
Please don't forget our August Contest. Some one will win this beautiful mosaic snow flake here to the left. Check out the contest rules
You get your name in the drawing every time you leave a comment this month here or on our new facebook page. You can get more chances by becoming a follower of this blog.
Its easy I hope to encourage some interaction with my readers. So check out the contest rules page to find out others ways you can get your name in the hat.
Your purchase of any of the items below helps to support this ministry. I have no guaranteed pay check any more each month. This is a faith adventure for me in which I am trusting the Lord to provide for my family through the sales from my art, music and lessons, writing, and house prayer concerts. Please keep me in mind for your gift giving needs and perhaps even pass them along to your friends by posting a link to face book or on your pinterest board.
Greeting Card
Puzzle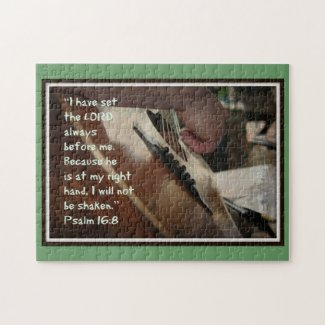 Always Before Me 8 x 14 Puzzle
by
MargotsDesigns
See more
puzzles
Scripture Necklace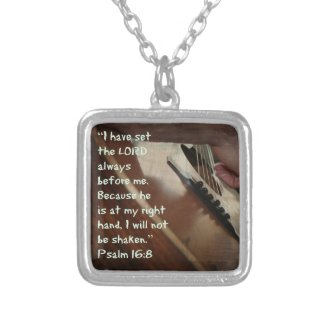 Always Before Me Scripture Necklace
by
MargotsDesigns
Make
custom pendants
at Zazzle.
To see other items with this design and many others