A Devotional by Margot Cioccio
Photos and collage by Margot Cioccio
I visited the a lovely rose garden in one of our city parks this week. There were rows and rows of beautiful roses in the hight of their full bloom glory. Off to the side of the garden someone had planted some thistles. You can see them in the picture. In there own way they were beautiful. I wonder if the gardner had planted them to show the contrast between roses that seem so refined and graceful and the thistles that grow wild and free along the roadsides. I suppose I will never know the mind of that gardner. Today I am choosing to give thanks for both roses and thistles in my life.
Thistles are highly regarded in Scotland and I found this interesting legend explaining why the Scots adopted it as their national symbol.
According to Wikapedai "According to a legend, an invading Norse army was attempting to sneak up at night upon a Scottish army's encampment. During this operation one barefoot Norseman had the misfortune to step upon a thistle, causing him to cry out in pain, thus alerting Scots to the presence of the Norse invaders."
I guess it reminds me that it is not just the beautiful, refined and polished things that we are to give thanks for but also for the ordinary everyday thistles. To the invading Norseman they were an annoyance and cursed thing. To the Scots they became a symbol of protection. In the
language of flowers
, "the thistle (like the burr) is an ancient Celtic symbol of nobility of character as well as of birth, for the wounding or provocation of a thistle yields punishment. "
I thought it interesting that while most of the meanings of the various roses in the language of flowers had to do with love, a light pink rose is a symbol of grace and a dark pink rose is the symbol of gratitude. I had not looked at the list when I chose the roses for my collage from the many photos I took that day.
Grace and Gratitude are things that we should cultivate in our lives that they would grow and bloom in our lives like beautiful roses. Both the rose and the thistle have thorns. The ordinary but noble thistle, protects and keeps its people safe from invaders is a reminder to not despise the ordinary.
Anyway I am supposed to be taking a day off today and had hoped to manage to get ahead on posting but I did not manage to pull that off.
I leave you to write the rest of this post. I challenge you to make a gratitude list that includes both the roses and the thistles in your life. I'd love it if you would share your list in the comments below.
Prayer:
Dear Lord,
Thank you for the ordinary things in our life. Thank you for the things that one one hand may seem and annoyance but also have value and serve to protect us in some ways. Thank you for the things you have refined in our life and they places we display your glory. Truly you are faithful to complete the work you have begun in us.
Some Gift Ideas That Help Support This BLOG
The point of this site is not to sell things. From time to time I do share some products featuring my artwork. Your purchase of these items that I have created helps me pay my bills and keep writing and creating. Please keep them in mind for your gift giving needs. Thanks, Margot
Greeting Card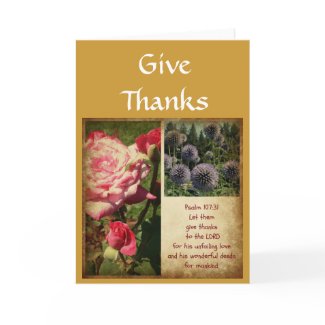 Give Thanks
by
MargotsDesigns
Create cards
on zazzle.
Inspirational Standing Plaque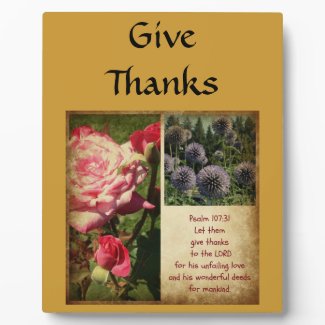 Give Thanks
by
MargotsDesigns
More
Give Plaques