Photo by Margot Cioccio
A Devotional by Margot Cioccio
I've gotten to watch a miracle un-fold this week. I have watched what was impossible and seemed hopeless for many years all of a sudden change. I'd like to tell you there is a simple formula to follow and whaa la you can have a miracle too. I'd like to tell you exactly when the change took place, but I can't. What I can do is marvel at how our awesome God can take the impossible and make it possible.
So I'm sure you are now sitting at the edge of your seats wondering what happened? It might not even seem like such a big deal to you, but a relationship that was formally stuck and just existing suddenly changed. Hearts that were hard softened. People who were not really talking to one another began to listen and to care again.
It still feels surreal at this point. As with all seemingly sudden changes there is a long long back story of things that changed bit by bit. God's healing can come at times in an instant but most often its a step by step journey with a suddenly that catches you by surprise.
Since its my birthday, I'm going to keep this short today.
I pray that you won't give up. I pray that God will give you the courage to try again and inspire you with something new to try. I pray that if he has done a healing work in your life he will help you to finally take off the protective bandages and test out what He has healed.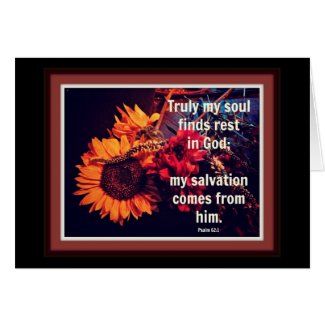 My Soul Finds Rest Card
by
MargotsDesigns
You can
sell greeting cards
, invitations, stamps and more on Zazzle.com!