A Devotional by Margot Cioccio
Painting of the Wooden Indian
by Margot Cioccio
Are heros are off to the Golden Grove to find the clue beneath the Singing Tree.
They are chased by Indians. When they turn around to face their fear the find it is only one Indian. Chief Cook and Bottle Washer who used to be a Cigar store Indian. He loves an Indian Princess called Many Happy Returns. He wants Crazy Quilts Coat. If gives up his coat he will give them a head start. Judy offers the magic lunch box as a trade but not deal. Then Judy tries the little looking glass and the Chief takes that as a trade for their freedom. Now they have a forest of cactus to try and pass through. They finally reach the Golden Grove and who shows up but the Winter Green Witch. This time they don't have the little looking glass to stop her. Plus she is pretty mad about being banished by Queen Melissa for illegally practicing magic. Let's hope something happens to get our friends out of being turned in to Bull Fogs that Winter Green hopes will croak.
http://www.radiolovers.com/shows/C/CinnamonBear/CINNBEAR371217e1932-22-mono12m18sWoodenIndian.mp3
Here's the link for this episode of the Cinnamon Bear
Psalm 55
Listen to my prayer, O God,
do not ignore my plea;
2

hear me and answer me.
My thoughts trouble me and I am distraught
3

at the voice of the enemy,
at the stares of the wicked;
for they bring down suffering upon me
and revile

me in their anger.
4 My heart is in anguish within me;
the terrors

of death assail me.
5 Fear and trembling have beset me;
horror has overwhelmed me.
6 I said, "Oh, that I had the wings of a dove!
I would fly away and be at rest—
7 I would flee far away
and stay in the desert;

Selah
Its funny how are fears are magnified when we run from them. When we turn and face them the worst that we have imagined is rarely what we find. The Dictionary of Bible Themes sums up fear this way. "An attitude of anxiety or distress, caused by concern over a threat to one's future. Scripture provides numerous examples of situations in which fear is experienced. It declares, however, that God alone is to be feared, and moments of human fear can be opportunities for deepening faith in him." Most often our fears are about the future, or fear of embarrassment or shame. Sometimes our fear is of people or persecution or judgement. Maybe it's the crazy stuff going on in our world that causes you fear. I encourage you to turn and face your fears you may find that instead of a band of Indians its just one Indian.
Here are some quotes by other believers that should help and encourage. You are not alone, we all face fear, even the most courageous must decide to face their fears and then choose to do whats right anyway.
"I had feelings of fear about the future...The devil kept on whispering, "It's all right now, but what about afterward? You are going to be very lonely"....And I turned to my God in a kind of desperation and said "Lord, what can I do? How can I go on to the end?" And He said, "None of them that trust in Me shall be desolate." That word has been with me ever since. "
~ Missionary, Amy Carmichael
"Some say if only my fears and doubts will leave then I will get to work. But instead you should get to work and then your fears and doubts will leave."
~ Dwight L. Moody
"Where does your security lie? Is God your refuge, your hiding place, your stronghold, your shepherd, your counselor, your friend, your redeemer, your saviour, your guide? If He is, you don't need to search any further for security."
~ Elisabeth Elliot
The next time you find yourself alone in a dark alley facing the undeniables of life, don't cover them with a blanket, or ignore them with a nervous grin. Don't turn up the TV and pretend they aren't there. Instead, stand still, whisper his name, and listen. He is nearer than you think.
~ Max Lucado
Actually Max Lucado wrote a beautiful prayer in response to the recent shooting.
I will include it as our prayer for this post.
Prayer:
By Max Lucado
Dear Jesus,
"It's a good thing you were born at night.
This world sure seems dark. I have a good eye for silver linings. But they seem dimmer lately.
These killings, Lord. These children, Lord.
Innocence violated. Raw evil demonstrated.
The whole world seems on edge. Trigger-happy. Ticked off.
We hear threats of chemical weapons and nuclear bombs.
Are we one button-push away from annihilation?
Your world seems a bit darker this Christmas. But you were born in the dark, right?
You came at night. The shepherds were nightshift workers.
The Wise Men followed a star. Your first cries were heard in the shadows.
To see your face, Mary and Joseph needed a candle flame. It was dark.
Dark with Herod's jealousy. Dark with Roman oppression. Dark with poverty. Dark with violence.
Herod went on a rampage, killing babies. Joseph took you and your mom into Egypt.
You were an immigrant before you were a Nazarene.
Oh, Lord Jesus, you entered the dark world of your day. Won't you enter ours?
We are weary of bloodshed. We, like the wise men, are looking for a star.
We, like the shepherds, are kneeling at a manger.
This Christmas, we ask you, heal us, help us, be born anew in us.
Hopefully,
Your Children"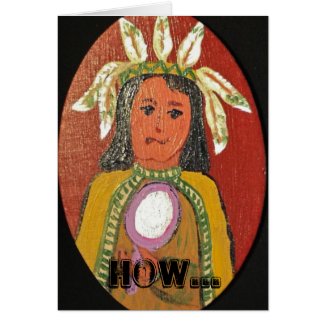 How... Are You? Card
by
MargotsDesigns
See other
Wooden Cards