A Devotional by Margot Cioccio
Earlier this year I was asked to do a series of ornaments based on the old time radio show called the Cinnamon bear. The tradition was to listen six days a week excluding Sundays between Thanksgiving and Christmas. I thought it might be fun to write a devotional to go with each episode which will mean I will be posting on Saturday's to make this work.
I meant to start on this project and have it all ready to go and set to auto post. Alas I got busy with other things so my plan is to re listen to each episode and create a short devotional point that you could share with family members as you listen to the story together. If you are listening by yourself, I hope it will help you to re-gain a bit of childlike wonder and imagination. So I will include the radio show link so you can listen to it and I will post a photo of the ornament I created for each episode. I may include some product links to things featuring the ornament artwork. So join me as we unpack each delightful story between now and Christmas.
Here's the Link To Listen to Episode #1
http://www.radiolovers.com/shows/C/CinnamonBear/CINNBEAR371129e0132-22-mono11m17sPaddyOCinnamon.mp3
Isaiah 41:10
So do not fear,
for I am with you;
do not be dismayed,
for I am your God.
I will strengthen you
and help you;
I will uphold you
with my righteous right hand.
In our story today the kids find a telescope and are able to look at a tiny Cinnamon bear in a new way.
While it can be helpful to look at things in new way, sometimes we can look at things and because of fear we can magnify them to be a bigger problem than they need to be.
Our fear can at times paralyze us and keep us from taking that first step on the journey that God has called us to take. Our verse today reminds us to not fear or be dismayed because God intends to strengthen you and to help you.
Today look through your imaginary telescope and magnify the Lord. See the Lord as big and see your problem as small. Look at in a new way in the light of the Lord who desires to help you to overcome it.
John 16:33
"I have told you these things, so that in me you may have peace. In this world you will have trouble. But take heart! I have
overcome
the world."
Prayer: Lord help us to not be paralyzed by fear. Help us to magnify you and to look at our problems through the lens of your great love for us.
Psalm 34:3
Oh, magnify the LORD with me, And let us exalt His name together.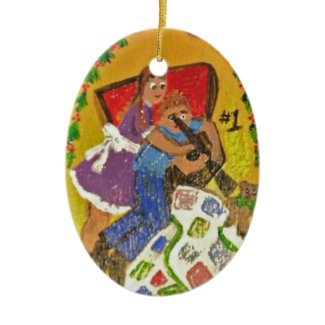 The Cinnamon Bear -Episode 1 Ornament
by
MargotsDesigns
Design your own
photo ornaments
.